Concrete Services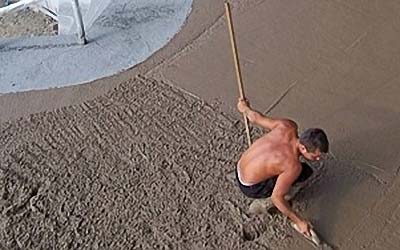 We at Dan-Tam Concrete are one of the most reputed companies in the stamped concrete field. We cater to clients in Dillsburg, PA and the surrounding areas. Creating superb stamped concrete surfaces is something we do with a great amount of expertise and attention to detail. We have been operating in this industry for almost 30 years.
In this time, we have handled outdoor concreting jobs of all shapes and sizes. Our commitment to quality and the fact that we offer very cost-effective solutions is what sets us apart from many other local stamped concrete companies. The range of concreting services we offer includes:
Pool Decks
Pool decking is constantly exposed to the elements, making it more prone to wear and tear or over time. One of the best ways to make sure that your pool deck provides years of trouble-free service is to opt for the right kind of material. Today, stamped concrete is one of the most popular pool deck surfacing materials for residential properties.
We handle these jobs to perfection and provide customized stamped concrete pool deck design and installation solutions. The use of high quality materials and the best workmanship help ensure that your pool deck looks stunning, is resilient and lasts for a number of years with very basic maintenance. We provide creative and durable pool decks activity cost-effective pricing. Read More About Pool Decks >>
Patios
When you are getting a patio installed, you wanted it to look stunning and complement the look of the indoor areas of your home. In addition to this, you also want the feature to be resilient and strong as it is open to the air. A stamped concrete patio is one of the best options if you are looking for value for money.
We provide creative and unique stamped patio designs and plans, making sure that your ideas and preferences are kept in view at all times. A concrete patio that has been installed by experts like us can last for decades with basic maintenance and care. We also recommend that you get the concrete surface seated on a regular basis as this will keep it well-protected from the elements. Read More About Patios >>
Sidewalks
Creating functional, strong, stable and long-lasting sidewalk installations is a lot about making sure that good quality materials are used in the work. Aside from this, it is also important to use the right installation techniques. We are a company that has vast experience in this industry and provide excellent stamped concrete sidewalk design and installation solutions.
Our team of experts can create the kind of aesthetic you want on your property and will make sure that your sidewalk looks as stunning as the rest of your landscape. In addition to the actual sidewalk installation, we can also create beautiful decorative stamped concrete borders along the entire length of the feature to complete the look. Read More About Sidewalks >>
Steps & Tiers
If your outdoor spaces have grading and multi-leveled areas, we can create very stable and strong concrete tiers in them. In addition, our team can also design and construct concrete steps leading from your home to a patio or any other areas in your landscape.
We use our creativity and skill while designing these features, making sure that their styling and finishing are cohesive and add to the appeal of your landscaping. We make sure that the surfaces are textured properly in order to create the right amount of traction as this makes them slip-resistant. The use of high quality materials helps to ensure that these yard areas and the steps are safe for use. Read More About Steps & Tiers >>
Driveways
A driveway is a very important aspect of your property. Not only is it one of the first things that visitors notice, but it also sees a significant amount of use, almost on a daily basis. This makes it very important to ensure that good quality materials are used in the installation.
We provide stamped concrete driveway design and installation solutions and can create a beautiful, attractive and resilient driveway in your outdoor areas. Our team uses various design concepts and patterns, so you can be sure that your driveway is stunning and that it adds to the curb appeal of your home, increasing the overall value of your property. Read More About Driveways >>
Borders
While stamped concrete has a very appealing look, we can make it even more stunning and appealing by adding a decorative stamped concrete border to the feature. These borders can be as elaborate or simplistic as you want them to be and are perfect for lining driveways, sidewalks, patios, poolscapes and various other outdoor areas of your home.
We can create different designs based on the theme and aesthetic of your landscape. Whether you want a more modernistic design or prefer something more classical, our team of designers can come up with superb ideas that will showcase the beauty of your stamped concrete installation in an amazing way. While we provide high quality concrete border services, you will find these are extremely cost-effective. Read More About Borders >>
Resealing
Concrete is a very resilient material that is widely used in landscaping projects. However, since these surfaces are exposed to climatic changes, they can become deteriorated over time and show signs of wear and tear. If you feel that your existing concrete sealant has started to look old and dull, we can provide you with excellent resealing services. Not only will this improve the appearance of the surfaces, but will also add a layer of protection to them.
We recommend that you get the resealing done every couple of years as this will provide the concrete the right kind of protection right through the year. We provide excellent, cost-effective concrete resealing services for outdoor areas such as driveways, patios, pool decks and more. Read More About Resealing >>
If you want custom pool deck stamped concrete solutions, feel free to contact Dan-Tam Concrete at (717) 528-7133. You can also send us your queries and project specifications via this Contact Us form and we will revert shortly to have detailed discussions about your requirements. We assure you of the best solutions at all times.