Borders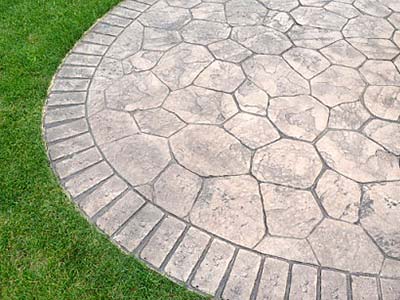 Your landscape and the features in it are the things that are noticed first by anyone visiting your home. This means the manner in which these areas are designed has a significant impact on the perception that people have about your styling preferences and taste. Aside from this, having well-designed landscape areas is one of the best ways to add to the beauty and functionality of your home.
When you take these factors into account, the design of the driveways, sidewalks, patio, pool deck and other areas like terraced spaces and steps etc. has a lot to do with the overall appeal of your property. This is where our company comes into the picture.
Custom Stamped Concrete Borders
We at Dan-Tam Concrete are one of the most reputed companies in the stamped concrete field. We cater to clients in Dillsburg, PA and the surrounding areas. Installing concrete borders is something we do with a great amount of skill and expertise. Our company has been operating in this industry for almost 30 years.
We have what it takes to provide our clients with the kind of solutions that will significantly improve the beauty and functionality of their outdoor spaces. In this time, we have handled scores ofconcrete stamped border projects. This is a wonderful way to add some more beauty to what Stamped Concrete already creates.
Decorative Concrete Border Cost
We are highly committed to providing our clients with top-notch services at pricing that won't be heavy on the pocket. This is what sets us apart from many other local concrete border companies in Dillsburg. Creating superb stamped concrete installations in landscaped areas is what we specialize in.

Aside from making sure that these features are durable, safe and functional, we also prioritize aspects such as aesthetics. Our team of designers is extremely skilled in their approach to their work. Whether you want something very simple like a brick patterned border, or prefer a more elaborate look in your landscape, our team of creative designers would provide you customized stamped concrete border solutions.

You will find that our work has great finesse, which adds elegance and charm to your landscape. We use high quality materials in our work, and the best pigments and finishing techniques. This means, your landscape will always be a class apart from the rest of the properties in your neighborhood.

If you want custom concrete border installation solutions, feel free to contact Dan-Tam Concrete at (717) 528-7133. You can also send us your queries and project specifications via this Contact Us form and we will revert shortly to have detailed discussions about your requirements.

Click on the images below to view a larger display.