Patios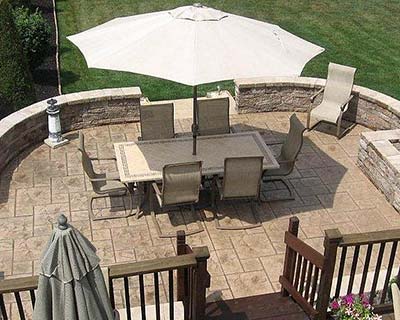 In recent years, the idea of stamped concrete patios has gained a lot of popularity. Stamped concrete is designed to resemble bricks, slates, stones and tiles. By choosing to have stamped concrete for your patio, you not only get a durable and affordable outdoor living space, but the end results are just beautiful.
We at Dan-Tam Concrete are one of the most reputed companies in the stamped concrete field. We cater to clients in Dillsburg, PA and the surrounding areas. Creating stunning stamped concrete patios is something we do with passion and commitment to quality. This is what is reflected in every project we take up.
Why Opt for Stamped Concrete Patios?
Our company has been operating in this industry for almost three decades and in this time we have handled a large number of similar projects on residential properties across the region. Prospective clients are keen on knowing what makes concrete patios so special. Here are the benefits:
Say goodbye to the days of bare, flat sidewalks, patios and driveways. With the design possibilities of Stamped Concrete you will receive a unique look that is just as appealing as other landscaping options such as brick, stone or tile without the maintenance of pulling weeds through your stone work and all within a budget that you have in mind.


There is little maintenance when selecting Stamped Concrete for your patios as the only recommendation is to have your patio resealed every 3 to 4 years.


Another aspect that makes Stamped Concrete patios an appealing choice is the fact that you get to play around with the colors chosen. There are several color options which work well with each other such as medium and light grey shades, beige and tans mixtures or soft peach or red tones depending on what meets your expectations and the final outcome you are looking for.


There are different designs that give you the chance to get more creative and at the same time, broaden your options in order to end up with a stylish final look.


The material is also very easy to maintain and this means you won't have to spend hours maintaining your stamped concrete patio.
Stamped Concrete Ideas
We have the knowledge and skill required to handle concrete patio installations of all shapes and sizes. Our high quality, cost-effective solutions are some of the things that set us apart from many other local concrete patio installation companies.
We use the best concrete and other materials in our work and seasoned professionals handle the job. Superb installations, creative stamped concrete designs and themes and superior finishing, all go a long way in creating a feature that is outstanding in every way. What you get is an exquisite, strong and durable concrete patio that is easy to maintain too.
Why Choose Us For Your Stamped Patio Project?
We are focused on customization and you can rest assured that your concrete patio will be exactly as you had envisioned it to be. The skill and creativity of our patio designers bring your ideas to life and help create outdoor areas that uplift the look of your yard and increase the value of your home.

We are intent on ensuring that our clients get value for money when they hire us and it's why we make it a point to discuss your requirements and budget in detail. This gives us a very clear idea about what your expectations are and the amount you want to invest in this feature. We keep these aspects in view at all times, while providing solutions that are perfect for your needs.

If you want custom stamped concrete patio solutions, feel free to contact Dan-Tam Concrete at (717) 528-7133. You can also send us your queries and project specifications via this Contact Us form and we will revert shortly to have detailed discussions about your requirements.

Click on the images below to view a larger display.