Stamped Concrete
Resealing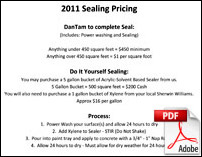 Sealing Pricing 2011 (PDF file)

DanTam also takes care of Resealing your existing stamped concrete. We use a Acrylic-Solvent Based Sealer. We are happy to give you an estimate based on our records to take care of this for you or we also offer DIY instructions. Please contact our office for more information.

Click on the images below to view a larger display.